PSAT/ SAT/ ACT - College Entrance Exams
How students access their PSAT scores:
If your student took the PSAT exam given during the school day on Wed, October 13th at LACES, the College Board notified your student via email on December 7th of their scores being available. The email has a unique access code that connects your student to their scores online.
For students under the age of 13, parents will have to contact the College Board to access scores 866-433-7728 All 7th and 8th grade students score reports were issued and provided to students during Homeroom on January18th - 19th. If your student did not provide an email address on their answer sheet on test day, they can still access their scores online.
March 23, 2022
SAT School Day for Juniors only --- more information to come.
2021/2022 SAT & ACT Test Dates
Colleges who accept testing or have a 'test-optional' policy for college admissions will accept test scores from either the ACT or SAT exam. It does not matter! The two are treated equally and neither are given preference over the other.
To Learn more about the ACT exam and the content covered, timing, and scoring, visit at https://www.act.org/  
SAT / ACT Testing Calendar for 2021 - 2022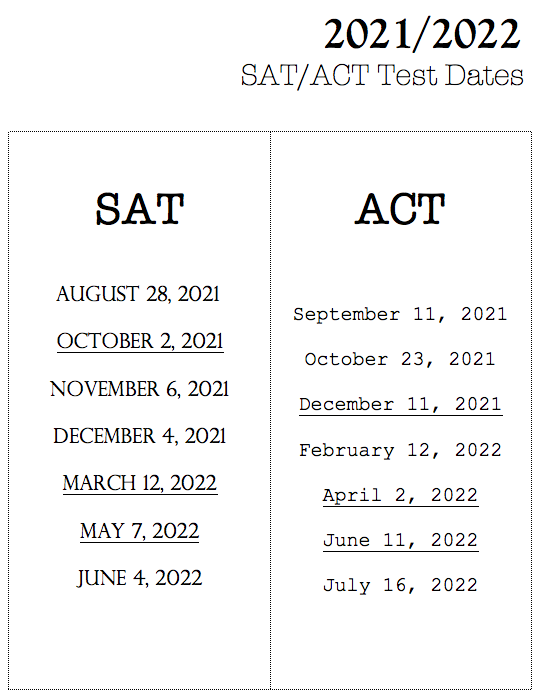 Some test prep resources are FREE and others require a fee.  The list contains online resources, test-prep companies, and books that come suggested to prep for the ACT and SAT.
LIST of Test Prep Resources
Test-OPTIONAL College list and UPDATES:
*There are currently over 1,700 colleges/universities that are test-optional.
For a list of colleges who are '
TEST OPTIONAL
', please visit
https://www.fairtest.org/ 
TEST OPTIONAL UPDATES:
11/2021: The UC's will be test-free 'now and into the future.'
11/2021: Stanford University extends test-optional admissions for another year.
11/2021: Columbia University extends test-optional admissions for 2022-2023 and 2023-2024.
The Great Testing Debate Webinar (WINTER 2021)
Hear from Paul Jury, Director of PJ Test Prep share information as to what Juniors, Class of 2022 should do for this school year re: SAT/ACT Exams. Paul covers how these tests are used in college admissions and how to raise your scores.
Webinar: 'Great Testing Debate' Winter 2021